A cabinet style parts washer can come in many varieties and configurations. The term cabinet typically refers to a machine with a single point of entry and exit. Walsh manufactures cabinets with turn tables, drawers and fixtures. The cabinet, based on its design can be one which will handle a multitude of different size and shapes of parts. A cabinet style washer may have a single stage (wash only) or multiple stages (wash, rinse, dry, etc.)
The clam-shell style parts washer is one of the most common cabinet style and usually the most inexpensive washer. It has a turn table mounted in a tank with a hinged lid. The parts are placed on the table and while the table is rotating, parts are subject to sprays from the top, bottom and sides. Larger machines have a vertical door and can have the turn table in the interior or on the door for overhead crane access.
Cabinet washers can contain various material handling components inside the housing. This enables a part or family of parts to be orientated to achieve the best exposure to the sprays and thus more specific cleaning. We have designed cabinet machines which have rotational arms onto which parts are placed for more exact cleaning.
Cabinet machines can be equipped with an external load / unload track designed with a cart or fixture onto which your parts are pre-loaded prior to the cleaning operation. An option would be to have a door on the opposite side of the housing for the parts to exit after being processed through the cleaning cycle.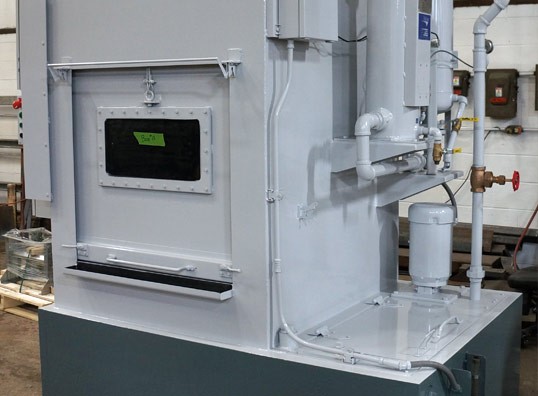 All of our parts washers may be equipped with standard components which simplify operation and maintenance. Examples are our oversized Marine Style tank clean out doors in the reservoirs and bolt on panels for cleaning or maintenance. Quick disconnect headers and spray nozzles with clip on holders are part of each washer.
Our philosophy is to make cleaning parts a part of your operation. By understanding the needs of your maintenance department, production department and your controls requirements, we assure that our equipment will be readily accepted even before it goes into production. Our management and our engineering will work with you through every step of the project. We realize that only you know your product, which is the most important part of every washer we build.
We have over 50 years in the design and manufacture of parts cleaning systems. We utilize the experience we have gained in those years to provide you with a product that is tuned to your needs. You do not have to settle for an off the shelf unit which you have to adapt to your parts. Our "Custom" design is yours without the custom cost.
Let us hear from you today. We offer consultation on a no cost basis.