Monorail style parts cleaning systems are normally associated with a continuous process including cleaning, metal preparation and painting. The systems can consist of a multitude of stages. The parts transfer through the system is by hanging from hooks or fixtures which are suspended from an overhead chain system. The monorail system can be a single in-line or a closed loop by which the parts are loaded and unloaded in the same area by one or more operators. The rail can be configured to be at one height for loading and unloading and a different height as parts travel through the washer.
The interior housing on a monorail parts cleaning system are similar to those in a belt-driven parts cleaner. Spray nozzles are attached to headers which allow pressurized cleaning solution to reach the parts on all sides. The upper housing rests on the process tanks which have an extension on one side for mounting of pumps and filters. The housings are designed and built with multiple access panels to provide easy maintenance and service access. Expanded metal is often used over the tanks to prevent parts from falling into the tanks. In larger installations, it is common to incorporate metal grating allowing operators to walk safely inside the tunnel (depending on the size of the tunnel).
The customized nature of each build allows a monorail style parts washer to fit around a customer's existing rail system or your system can be designed to incorporate its own exclusive rail system complete with all supports, hangers, hooks and fixtures.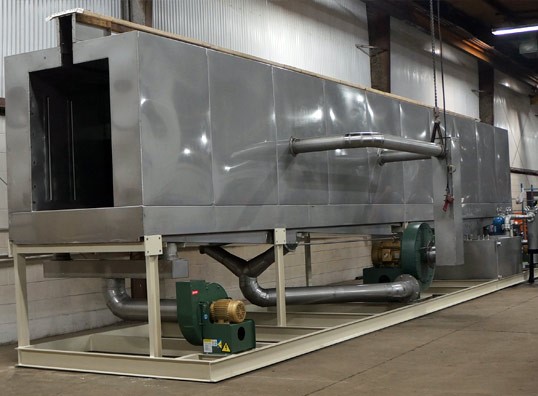 All of our parts washers may be equipped with standard components which simplify operation and maintenance. Examples are our oversized Marine Style tank clean out doors in the reservoirs and bolt on panels for cleaning or maintenance. Quick disconnect headers and spray nozzles with clip on holders are part of each washer.
Our philosophy is to make cleaning parts a part of your operation. By understanding the needs of your maintenance department, production department and your controls requirements, we assure that our equipment will be readily accepted even before it goes into production. Our management and our engineering will work with you through every step of the project. We realize that only you know your product, which is the most important part of every washer we build.
We have over 50 years in the design and manufacture of parts cleaning systems. We utilize the experience we have gained in those years to provide you with a product that is tuned to your needs. You do not have to settle for an off the shelf unit which you have to adapt to your parts. Our "Custom" design is yours without the custom cost.
Let us hear from you today. We offer consultation on a no cost basis.